Past Sermon Series
Hosea – The Prophet with the Adulterous Wife (June 7/8)
Hosea may be the strangest story of "one who speaks for God." God tells Hosea to marry an adulterous woman. Even after their marriage, Hosea's wife, Gomer, continues to commit adultery. Hosea would continue to love his wife. Life must have been unspeakably difficult for Hosea, living with a woman who continued in her adulterous ways. Hosea was living out what Israel had done with its bridegroom, God. Even though God would continue to love his people, they would forsake him again and again. They were the ones that were committing spiritual adultery. Yet, God is willing to love her back to a position of being faithful.
Printed .pdf
Worship Service Video
Joel – The Day of the Lord Prophet (June 14/15)
Joel prepares the people for the Lord's return to this earth. God would send a plague of locusts to destroy his people because of their unfaithfulness to him. Through the locust plague and drought, Joel would remind the people of the spiritual destruction God would bring upon those who were unfaithful to him on that final day of the Lord.
Printed .pdf
Worship Service Video
Amos – The Farmer Prophet (June 21/22)
Amos was a simple farmer/shepherd. Times were good for the nation of Israel. They were prosperous. They were safe from the surrounding nations. Yet, things weren't as they appeared to be. Underneath all the prosperity, the people were corrupt and sinful. Amos would be called by God to bring a message of repentance to his rebellious nation. Why should the people even listen to the message of this farmer? He was God's spokesman! Amos would remind the people: Prepare to meet your God!
Obadiah – The Prophet of Humility (June 28/29)
The people of Edom were lifelong enemies of the Israelites. The Edomites were like a thorn in the flesh as they seized every opportunity to cause Israel trouble. They were proud of it. The message of Obadiah was a message from God that said: "You should not have done this, Edom! You should not do it again!" God would condemn Edom's sin of pride and warn against repeating. How easy it is for the Christian to fall into the sin of pride. We also need to listen to this prophet and his message of humility.
Jonah – The Unwilling Prophet (July 5/6)
God called Jonah to go and preach to the people of Nineveh, the great capital of Assyria. At first, Jonah was an unwilling prophet. But when he finally would go to Nineveh, the people of Nineveh would listen to the prophet's message from God. They repented. Then Jonah is angry at God because he doesn't think God is fair in forgiving the Ninevites. God would then show his love to his unwilling prophet as well.
Micah – The Prophet with a Heart for the Helpless (July 12/13)
The Assyrians had destroyed the Northern Kingdom of Israel. But God had miraculously saved Jerusalem by sending an angel. Following that rescue, Jerusalem would once again enjoy a time of prosperity. That prosperity would produce the extremes of a greedy wealthy class and a victimized poor class. Conditions had become so bad that no one trusted each other. These social evils were symptomatic of the spiritual poverty in Judah. Idolatry was wide-spread. It was against this background that the Lord sent his prophet Micah to speak to his people in Judah. He would denounce the corruption and heartless behavior of the political and spiritual leaders of that day.
Nahum – The Prophet of God's Vengeance & Care (July 19/20)
Nahum means "comforter." Nahum was indeed a comforter to Judah. While Jonah had pronounced the destruction of Nineveh, the people repented and God suspended his destruction of Nineveh. However, Nineveh returned to its wicked ways and brutality. The focal point of Nahum is God's judgment on Nineveh. God is a God of mercy and love. He also is a God that will not tolerate sin and wickedness. God's judgment will always prevail.
Habakkuk – The Prophet Who Questions God (July 26/27)
Have you ever questioned God? Have you ever thought that God isn't fair? This prophet goes to God with his doubts and faith struggles. Habakkuk weighs the important question how God's patience with sin can be related to His holiness. The book of Habakkuk is a series of questions and dialogues with God. By the end of this book, God will bring this questioning prophet to confess his faith and to fully trust in God's plans.
Zephaniah – The Prophet with Royal Blood (August 2/3)
Even though Zephaniah seems to have royal blood in his veins, it would not stop him from bringing God's message of Judgment to the people of Judah. He prophecies against Judah for its Baal worship and Molech worship, for its arrogant prophets, treacherous men and immoral priests. The Day of the Lord was coming. The prophet's purpose was obviously to warn Judah of coming Judgment from God. Zephaniah, however, doesn't end with judgment and repentance preaching. He also proclaims a message of comfort through the coming Messiah.
Haggai – The Prophet of Priorities (August 9/10)
The people needed correction because their priorities were wrong. They were not putting spiritual things first. God and his temple were pushed aside while the people were selfishly thinking only of their own material comforts. Because they were not putting spiritual things first, God was even keeping from them the things they wanted so much: food, good clothes, savings, good crops, oil, etc. As God's people would shift their priorities to God and spiritual matters, God would bless them. Through Christ, God would grant peace to this world at the place of the new temple. God promised through Haggai: "'The glory of this present house will be greater than the glory of the former house,' says the Lord Almighty. 'And in this place I will grant peace,' declares the Lord Almighty.'"
Zechariah – The Messianic Prophet (August 16/17)
Zechariah's name means: "The Lord remembers." The Lord never forgets His people or His promises to them. The Lord remembered His promise to send the Messiah, and through the many Messianic prophecies of Zechariah, He showed that He continued to remember His promise. Zechariah was a priest from the tribe of Levi. Through the use of many visions and symbols, God is assuring His people, that He will send the Messiah to save them. They will be a part of his mission to proclaim the light of the Gospel out into the world.
Malachi – The Last of the Old Testament Prophets (August 23/24)
After the prophet Malachi speaks, there is no word from God for 400 years. Near the end of this book, Malachi declares God saying: "See, I will send my messenger, who will prepare the way before me. Then suddenly the Lord you are seeking will come to his temple; the messenger of the covenant, whom you desire, will come," says the Lord Almighty." Those words would be fulfilled in John the Baptist. The prophet reminds us of the treasure that we have in our hands with the word of God. God gave his people his plan for life. How happy the devil is when they neglect it. Yet, how sad he is when God's people make faithful use of it. Judgment is coming…. But with this great and dreadful day of the Lord, there is also coming hope and salvation. We wait for the day when God will take us home to heaven.
January 18 & 19 - "True Riches – Called to be Free"
We are free from the control of money because we are controlled by God. And that's what Christian stewardship is. Instead of being controlled by money and possessions, we are under the control of the Lord; by his grace we can use the money, possessions, time, and talents he has given to us in service to him. In the coming weeks we'll look at various aspects of how we use the money God has given to us.
January 25 (& 26) - Praise Service
Worship Video
February 1 & 2 – "True Riches – Called to Give our Best"
It's possible to give your money away without giving yourself, but it's impossible to give away yourself without giving away your money. Please understand that what God ultimately desires is not your wealth. How silly a thought would it be that the God who created the universe needs material goods from us! Rather, God who created us to be in a loving relationship with us, desires our hearts. However, when we give freely to him the thing which the world holds on to most tightly, the thing that grips the hearts of many, it's a tangible expression of love to God. It shows that our hearts belong to him, that he is truly present in our hearts. For this grace we give thanks.

Worship Video Printed Sermon
February 8 & 9 –
"True Riches – Called to be Content"
Contentment has a lot to do with Christian giving because contentment gives us freedom. If we are content we are freed from having to spend money on what we don't really need; we are free to have better and sharper priorities. If we are content we are free from the message of the world to collect as much stuff as we can. If we are content we are free to give more to the Lord. We are free to know that the Lord is the most important Person in our lives. With those truths ringing in our ears we ask God to make us more content!
Advent 1: November 30/December 1 – He Comes to Those Who Were Waiting for Him (Mark 1:1-8)
We begin a new series that concentrates our attention on the coming of Christ to meet the needs of individuals. Waiting and anticipating something is both exciting and scary at the same time. We look forward to some happy event. We also dread things that make us uncomfortable. John the Baptist, along with the Jewish people, was looking forward to the day when the Messiah would come. However, when he did come, many didn't like the message of repentance that he would bring. John the Baptist's role was to prepare people's hearts for the One that were waiting for so long.

Worship Video
Advent 2: December 7 & 8 – He Comes to Those in Darkness (John 3:1-21)
It was a dark night when Nicodemus so carefully approached Jesus. But the darkness wasn't only in the streets of Jerusalem. It was also in the hearts of the Jewish people. Isaiah spoke about this darkness when he wrote: "See darkness covers the earth and thick darkness is over the peoples, but the Lord rises upon you and his glory appears over you." (Isaiah 60:2) Things were going to change for Nicodemus and for many others. For Jesus comes to those who are in darkness with life-giving light for the soul.

Printed .pdf Worship Video
Advent 3: December 14 & 15 – He Comes to Those Caught in Sin (Luke 19:1-10)
You can tell a lot about a person by the company he keeps. That's what the Jewish leaders thought when they commented about Jesus: "He has gone to be the guest of a sinner." (Luke 19:7) Yet, that is the exact reason why Jesus came into this world. He came to be among sinners, in order to keep the law perfectly for us and for this world. That was also the message that Jesus wanted to bring to Zacchaeus. If Jesus wanted to avoid any contact with sinners, he would have had to remain in heaven. Zacchaeus was a "chief tax collector." He was at the top of his game. Yet, he had nothing without the treasure of Jesus. Jesus went to his house that evening to tell us all that he comes to those who are caught in sin.

printed .pdf Worship Video
Advent 4: December 21 & 22 – He Comes to Those who Believe (Matthew 1:18-25)
Christmas is about God's gift to the world, and His gift of his very own Son. This is a gift that lasts, as new and real as when Jesus was born. All other gifts, like the ones that people give and receive, have only temporary value. But God's gift to the world has eternal worth. As we begin to celebrate the anniversary of Jesus' birth, we remind ourselves that Jesus is God's Son sent to be our Savior. Mary, Joseph and the Shepherds would be brought to believe in Jesus as their Savior. May we also remember that He comes to those who believe. Through faith in Jesus, we have eternal life in heaven.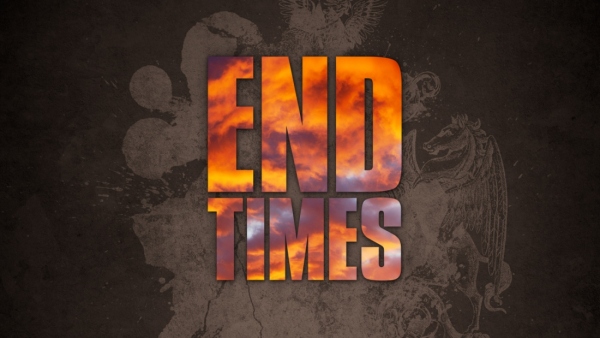 End Times Series (October 5 - November 23)
Scripture tells us again and again that there will be an end to this world of suffering and sin. There will be a judgment of all people. There will be an eternity in heaven and hell. Yet, Christians do wonder many things about that end. What happens when we die? What will our bodies be like in heaven? What will heaven be like? Where is hell? What role do angels play on Judgment Day? What will Christ's second coming be like? During this new series, we will take a look at these questions and other questions. The schedule for this new series is below.
October 5th & 6th - The End Times: The Second Coming of Christ (1 Thessalonians 4:15-17)
Jesus ascended back to heaven 40 days after he arose on Easter. The angels promised the disciples that Jesus would come back to the world in the flesh. When can we expect him? What will it be like when he returns? We will explore these questions and others as we look at Jesus' Second Coming.
October 19th & 20th - The End Times: Heaven - The Dwelling Place of God (Hebrews 11:10)
Heaven will be that final place of rest for believers in Christ. It is designed by God and is waiting for God's faithful believers.

.pdf Printed Worship Video
October 26th & 27th - The End Times: The Terror of Hell (Mark 9:48)
Hell. For many people today, that word has become a part of their daily vocabulary. Sadly, few of these people seem to have no respect for that word or place. That word, which is used by so many people lightly, may one day take on significance far greater than they can begin to imagine.

.pdf Printed Worship Video


November 9th & 10th - The End Times: Angels - The Gatherers and Dividers for the Lord (Matthew 24:31; 25:32)
The first duty of the angels upon the arrival of the Last Day will be to search out the righteous from the four corners of the earth. They will be directed by the Lord to separate the wicked from the just. They will serve as the Lord's "dividers" and "gatherers" for the Lord.

.pdf Printed Worship Video




November 23rd & 24th - The End Times: The Christian's Hope (1 Peter 1:3-4)



Christians, through faith in Christ, know God and have hope in their lives. This is not the expectation that something may or may not happen, like hoping it will rain. It is solid and sure. Therefore, we have no fear of the End Times of this world.

.pdf Printed Worship Video
Wisdom for Living Sermon Series (August 24 - September 28)

We all want Wisdom. Where do you start? Where do you find words of wisdom that can really help us through this life? In this series, we will look at some words of wisdom written by the man who was the wisest this world has ever seen. We will do that by looking at Solomon's words found in the book of Proverbs.
August 24 & 25 - Wisdom for Living: It begins with Fear (Prov. 9:9-10)
There are many different people in our lives that will try to give us wisdom. Some of those words of wisdom will be good – some not so good. As we begin to take a look at the wisdom that God gives us in his Word, may we remember that God's wisdom begins with fear.
August 31 & Sept. 2 - Wisdom for Living: It guards our Tongue (Prov. 15:1-8)
Our tongue is a relatively small muscle in our bodies. However, it is a muscle that is very much under our control. It is God's wisdom that helps us to use our tongues wisely.

.pdf Print Worship Video
Sept. 7 & 8 - Wisdom for Living: It gives us Direction (Prov. 16:1-9)
Even though we may think that we are in charge of our plans and destiny, ultimately God is bigger and stronger than all of mankind.

.pdf Print Worship Video
Sept. 21 & 22 - Wisdom for Living: It Brings Discipline (Prov. 3:11-12)
Through Discipline, parents teach their children to live a God-pleasing life. It is not always easy. Yet, it is out of love that a parent carries out discipline. As the Lord may discipline us, we see his heart of love.
.pdf Print
Worship Video
Sept. 28 & 29 - Wisdom for Living: It cheers a Crushed Spirit (Prov. 17:22)
It is not easy to always be cheerful in a world where sin runs rampant. We see what sin does in our lives and in the lives of others. Yet, we also see that the Gospel of Christ makes a heart cheerful.
Worship Video