STEM Night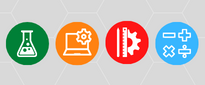 Raffles! Real Scientists! Free Books! ← This is just some of the STEM excitement we have in store at our St. Paul's STEM Night, Thursday, February 23rd from 6:00-8:00 PM. 3K – Grade 8 can discover the fun of Science, Technology, Engineering and Mathematics through hands-on activities. Sign up by Friday, February 10th through the following link: STEM Night Sign Up


STEM NIGHT VOLUNTEERS NEEDED: In order for our STEM Night to be a success, we need your help! STEM Night encourages hands-on learning while integrating science, technology, engineering, and mathematics. We are looking for ways to get our church and school families involved! We need volunteers to run stations at this event.

We are setting up the gym like a science fair. Students and families will move freely between stations. We need at least one or two adults at each station to run an activity. All activities are prepared ahead of time and directions will be laid out clearly for all volunteers. The only expectation will be to arrive at 5:30pm, Thursday, February 23rd (30 min prior to the event) and be ready to have some fun with kids and STEM! To thank you, volunteers will receive dinner a free t-shirt! If you are interested in helping, please email Mrs. Manske (rmanske@stpaulsfranklin.org)


STEM SUPPLY DONATIONS: We are also in need of some donated items for our STEM activities. If you'd like to contribute any supplies, please drop them off in the office! Thank you in advance!