Weekly Announcements
4/01/20 - Devotion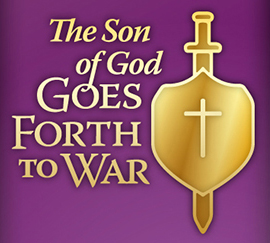 Navy Seals who go into enemy territory are trained to always know the answer to three crucial questions: where am I, where is my enemy, and who are my friends? It's relatively easy for a highly trained soldier to identify his or her enemy in a combat situation, but it can be a little harder for us to identify the enemy that is always trying to defeat us in the context of our every-day lives. Imagine the foolishness of a soldier going into battle without knowing anything about the enemy they were facing—what they looked like, how they acted, why they were even considered the enemy in the first place.

In his letter to the Ephesians, the Apostle Paul identifies the enemy that we all face. "For our struggle is not against flesh and blood, but against the rulers, against the authorities, against the powers of this dark world and against the spiritual forces of evil in the heavenly realms." (Ephesians 6:12) We face a dangerous enemy. This enemy is the devil and his demons. Their goal is to destroy you and me and everyone else. They want to destroy our faith, destroy our life, destroy our hope, and destroy our soul. Satan is our enemy.

But we have a mighty warrior in Jesus. Both Jesus and Satan used the cross as their weapon. Satan thought he had beaten Jesus when Jesus died on the cross. Yet Jesus used the cross as his ultimate weapon to beat all the forces of darkness – the devil, the world, our sinful flesh, and death itself. Satan is defeated eternally.

And because of Jesus, I can see through death into eternity, where there is a real place alongside millions of fellow believers like my family and all of you, where we'll be with Jesus forever in a life filled with so much wonder and beauty and joy and love and action that is far beyond our wildest dreams.
3/28/20
On the website, a couple of new links have been added under "resources." You can now watch the March edition of the WELS Connection and also view a copy of the most recent issue of Forward in Christ magazine. The links are below.

We are looking for volunteers who would be willing to make phone calls to our less tech savvy members of St. Paul's. This would just be an encouraging call to see how they are doing and if they need help with anything. If you'd be interested in making any calls, please contact the church office or the pastors.

If you, or anyone you know, could use help in any way, please contact the church office or the pastors. Your church and fellow members are here to help.
3/27/20
Click on the image below to watch the latest WELS Connection





Click on the image below, to read a free copy of the WELS "Forward in Christ.
"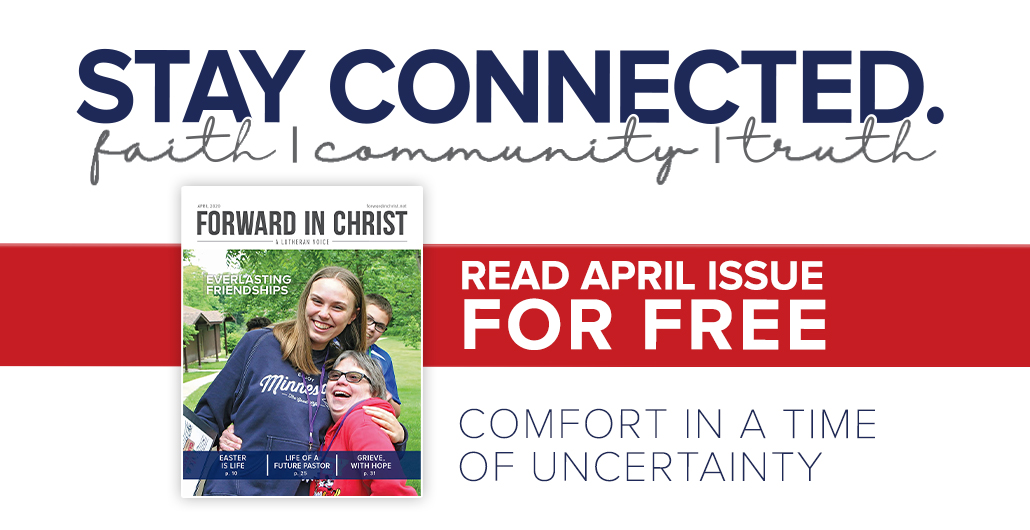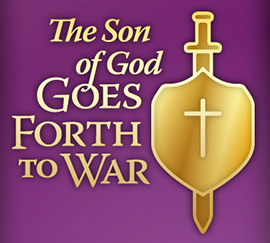 3/25/2020 Devotion
As World War II was drawing to a close, the Allied armies gathered up many hungry orphans. They were placed in camps where they were well-fed. Despite excellent care, they slept poorly. They seemed nervous and afraid. Finally, a psychologist came up with the solution. Each child was given a piece of bread to hold after he was put to bed. This particular piece of bread was just to be held—not eaten. The piece of bread produced wonderful results. The children went to bed knowing instinctively they would have food to eat the next day. That guarantee gave the children a restful and contented sleep.

Jesus is the Bread of Life. He tells us: "I am the bread of life. He who comes to me will never go hungry, and he who believes in me will never be thirsty." (John 6:35) We live in a time that we realize that we cannot handle things anymore by ourselves. Yet, we know who can handle all things for us. Jesus is that Bread of Life that guarantees us that we will be okay.

During this season of Lent, we have seen the Son of God go forth to War with Satan. Will some reject this Warrior Jesus? Yes. Even though some may reject Jesus, we echo the words of Peter: "Lord, to whom shall we go? You have the words of eternal life. We believe and know that you are the Holy One of God." (John 6:68-69) In our uncertain times, may our Warrior Jesus give you rest and peace.
3/22/2020:
OUR INTENTION TO SERVE ALL: I hope that this note finds everyone happy and healthy. Our lives have changed drastically this week, but as Christians we take comfort knowing that God is still in control of our lives no matter what happens.

On Tuesday, March 17th, the Wisconsin Department of Health Services (DHS), has issued a new order for a statewide moratorium on mass gatherings of 10 people or more to mitigate the spread of COVID-19. This order became effective at 5:00 pm on March 17th. "Mass gathering" is defined as any planned or spontaneous, public or private event or convening that will bring together or is likely to bring together 10 or more people in a single room or single confined or enclosed space at the same time.

Some may be asking the question, "Is this a time when we should obey God rather than men?" There are a couple of things that should be remembered.

The Fourth and Fifth Commandments apply in a situation like this. We are to obey and respect the governing authorities as they carry out their God-given responsibilities, and we are to do all we can to protect our neighbors and keep them from harm.

At the same time God certainly desires that Christian gather together regularly for worship. In limiting the size of worship gatherings, the government is not attempting to deny our freedom of religion. Rather, government authorities have issued mandates that they believe will protect citizens from harm.

Since all of these biblical principles are valid, it is legitimate for us to strive to comply with governmental regulations on the one hand and, on the other, to find alternate means to enable God's people to be fed with Word and sacrament.

It remains our mission at St. Paul's to serve you spiritually even through the coronavirus crisis. Since none of us have gone through something like this, we ask for your patience.

ONLINE RESOURCES: We will continue to use both our website and our Facebook page to provide resources for everyone to use. On our website, we have added a list of Spiritual Resources for people to use. We will continue to add to this list over time. We will create links to those resources from our Facebook page as well.

HEATHER SCHMIDT CALL DECISION: As many of you recall before the adjustments for COVID-19, Miss Heather Schmidt had received a call to serve at another school. She has made a decision on her call. Her words:

As you know, over the past few weeks, I have been deliberating a call to St. John's in Montello, WI. After much prayer and many conversations with people at both congregations, the Lord has led me to return the call to St. John's and continue serving here at St. Paul's.

I would like to thank all who offered prayers on my behalf or shared their thoughts and opinions with me. I am truly blessed to serve this congregation. To God be the glory!

In His Service,
Heather Schmidt

ST. PAUL'S SCHOOL: This closure also impacts our St. Paul's School. In response to both the COVID-19 outbreak and Governor Evers' mandate, our school will be closed to student education. We will continue to monitor updates and make a decision on re-opening. During that time St. Paul's is implementing Virtual Learning Days. Virtual Learning Days are school days. But, unlike a traditional school day, attendance is not determined by being physically present in the school building. Instead, attendance is tracked through completion of a student's homework assignments that our parents pick up and drop off at school.

NEED HELP? We recognize that there are people who are not able to get out to buy groceries or other necessary supplies. If you need help, please contact the church office at 421-1178, or Pastor Adams at 416-4710. Or you can email to: office@stpaulsfranklin.org or badams@stpaulsfranklin.org. We will try to find help for you.

OFFERINGS: Even though our congregation's church and school activities have been greatly reduced in our facility during this time, your continued financial support is still needed to support the ongoing ministry of St. Paul's. If you have offering envelopes, your offering can be placed in the envelope, add a stamp and drop it in the mail. If you want to electronically give a one-time gift or set up a regular offering plan go to the St. Paul's Church Website and click "Donate" on the top line. Thank you.

FUTURE PLANS:

We are working on ways to provide a weekly message online.
We are exploring ways to provide the Lord's Supper to our members, and yet continue to follow the order from the State of Wisconsin.
If we are not able to worship together in church for Good Friday and Easter, it is our intention to celebrate Good Friday and Easter after this outbreak is over. Even if it is weeks after the date of Easter on the calendar.
If this outbreak continues past the date of Confirmation, we will have to discuss that further.
Explore ways to have the sanctuary open for those who wish to stop in for personal prayer and reflection. Please keep in mind the 10 person limit and practicing social distancing (six feet). We need to find ways that will not pass the COVID-19 virus to another person.
You are welcome to stop and see your pastor for personal spiritual care and encouragement.