Vacation Bible Camp 2023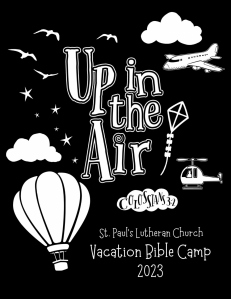 Vacation Bible Camp runs from Monday, June 26th - Friday, June 30th from 9:00 AM - 3:00 PM.

This year's theme, "Up in the Air," comes from Colossians 3:2 – "Set your minds on things above, not on earthly things." The worries. The doubts. The fears. The comparisons. The guilt. The shame. Does your mind ever get tired from all this spinning? This summer, we're going to take a look at a different mindset – a new way of thinking – as we explore our theme UP IN THE AIR. Join us as we discover how everything looks different when you're thinking from up there!

It takes many volunteers to make our Vacation Bible Camp such a success! We welcome all volunteers!

At this time we are only signing up volunteers. If you'd like to help, sign up here!

We will begin camper registration later in spring!