Our beliefs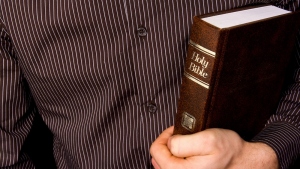 We welcome all in the name of Jesus, the Son of God and our Savior, who died on the cross and was raised in victory on Easter Sunday by the power of God the Father.
God -

We believe in the Triune God -- Father, Son and Holy Spirit. This is the only true God we can worship.

Holy Bible -

The Bible is the Word of God completely and without error in any part.

Jesus Christ -

Jesus Christ is the sinless Son of God, who was crucified, died and rose again to open the door to heaven for everyone who believes in Him.

Forgiveness of Sins -

All people are sinners and fall short of God's glory. We can do nothing to gain our own salvation. Our sins condemn us. Jesus won forgiveness for all. We receive that forgiveness of sins as a gift from God through faith in Jesus Christ, our Savior.
We are members of the Wisconsin Evangelical Lutheran Synod (WELS), a group of Christians bound together by a common confession of faith. We would be happy to share our faith with you.