Growing in Knowledge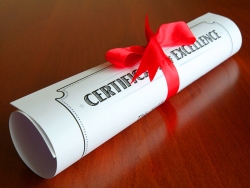 Proven Excellence
Each year our students take a national standardize test to compare their progress and knowledge to the average nation-wide. We continually score well above the national average with the gap widening substantially as they move into the junior high years.

Graduates of St. Paul's go on to several different high schools. Although the majority do attend either Franklin, Oak Creek, Greenfield, Greendale or Wisconsin Lutheran High School, we currently have students in nine different high schools. Over 90% of our graduates are involved in some extra-curricular activity in high school.

Use of Technology
Technology continues to change at a rapid pace today. We are always evaluating how we might incorporate the use of technology into class room teaching. We are currently upgrading our technology to be able to use I-pads and Chromebooks into each classroom. Our teachers are eager and willing to learn about this technology so that our students can have the best education possible.