What to Expect in Worship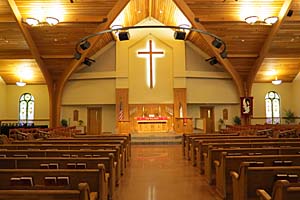 Thinking about joining us for worship?

We know that you're curious about what happens on a Sunday at St. Paul's. We have some answers to some common questions people have, so that you can be more at ease as you look forward to attending.

Where should I sit?

Feel free to sit wherever you'd like! If you need assistance with finding a seat or any other needs, an usher will be happy to help you.

What about my children?

Children of all ages are welcome at St. Paul's. We encourage kids and their parents to grow in faith together as they hear God's word and sing his praises in the worship service. And, twice a month in our later Sunday worship service, we offer a children's devotion in the service just for the young ones. (Usually, the 2nd and 4th Sundays in the month.)

What if I need to take a child out for feeding or a break?

We provide a nursery in the back of the church sanctuary to meet the needs of parents with infants and very small children. It is equipped with a large window that looks out to the sanctuary from the back and a speaker to hear the worship service. It's the perfect place to slip away with a hungry infant or noisy child.

How long is the worship service?

A typical worship service lasts about an hour.

Are you going to call attention to me as a visitor?

No. We want you to feel welcome - and we hope you're warmly greeted by other St. Paul's worshipers - but we won't single you out or put you on the spot. You won't be asked to stand up and introduce yourself. There won't be a quiz later on the names of people you met. We're just glad when you can join us to praise God along with us! We do enjoy it when visitors fill out the "Friendship Registers" in the pews in church, so we can remember your visit. If you share your contact information, we would be happy to share more information about our church or about upcoming events.

What is the church service like?

Our service is printed out entirely in a worship folder each week and is easy to follow.

Our worship services are structured and can be characterized as on the traditional side. The Lutheran church views worship is a conversation. God speaks to us in his Word: Every Sunday, three readings from Scripture are featured. One of those readings is explained and applied in the sermon. The readings follow a regular preset schedule that makes sure that we cover all the key teachings of the Bible as well as the events of the life of Christ each and every year. After that, we "join the conversation" by responding to what God has said in his Word. One way we respond to what he has said is by our prayers. We also respond with our praise. We praise God for his salvation and for preserving and blessing our lives.

The greatest strength of Lutheran worship is that Jesus our Savior is featured prominently.

Is an offering taken at church services?

Yes, an offering is taken because the members of St. Paul's have joined together to carry out the Lord's work here in Franklin and around the world. However, our guests need not feel obligated to participate in our weekly offering to support our ministry.

Do I have to be a member to attend worship or other events?

Anyone is welcome to attend worship or activities as a visitor. Come as you are! You'll find a welcoming group of friendly people.