School Families Welcome Cookout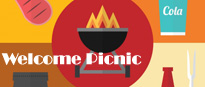 Family Cookout!
We want to welcome all families to come and enjoy some relaxing fun and food. It will be hosted by the faculty and staff right here at St. Paul's with lots of fun fellowship! We hope to get to know new school families better, give parents a chance to talk to teachers in a relaxed setting, and connect the school family with the church!
When: Tuesday, August 6
Time: 5:30 - ????
What to bring: A dish to pass (burgers, brats, hot dogs, and drinks will be provided.)
In order to properly prepare enough food, we ask that you register ahead of time. There are 3 ways to register:
1. If you have a smartphone, you can scan the QR code below to access the Google form,





2. Click on the link here





3. There is a sign-up sheet on the counter in the narthex. All are welcome!
For more information please contact Heather Schmidt at hschmidt@stpaulsfranklin.org or 262-391-1056 (text or call).